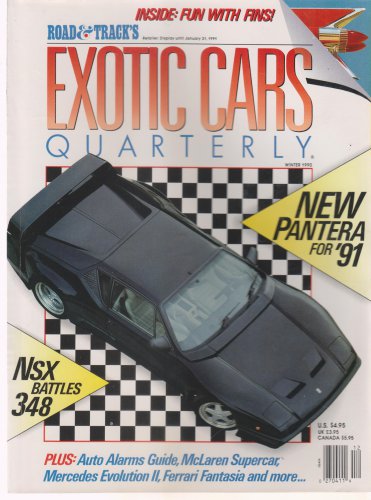 ROAD & TRACK 1990 EXOTIC CARS QUARTERLY Vol. 1, #4
This issue covers the following topics:
1) Acura NSX vs. Ferrari 348ts
2) The new De Tomaso Pantera GT5 S (Cover Car)
3) The IAD Venus
4) Anti theft devices
5) The Mitsubishi 3000GT VR-4
6) The Cadillac Aurora concept
7) The street & race version of the Lotus Esprit SE
8) The McLaren M6GT
9) The Ferrari Fantasia at Montefiori
10) The Mercedes-Benz Evolution II
11) The 1959 Cadillac Eldorado convertible
12) Famous finned autos
13) Landspeed records & stability
14) The Cisitalia Aerodinamica Mille Miglia
Vintage Road & Track magazines for the collector who is interested in cars, racing, a favorite model, Nostalgia, even advertisements.
Over 20 years old
great vintage ads
light tanning at edges
no address label
good copy
Please check out other magazines. We have hundreds of magazines listed and have a large unlisted inventory of back issues in a wide variety of subjects.
why don't you discover
ivanhoe
.
ecrater
.com. the ebay alternative for great deals . Shop Ecrater. Lowest Prices