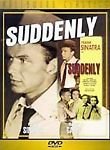 Price:

$1.00
Genre:
Drama
Format:
DVD
Leading Role:
Sterling Hayden, Nancy Gates, Frank Sinatra, James Gleason
Release Date:
04/01/1999
Director:
Lewis Allen, Lewis M. Allen
Rating:
NR
UPC:
056775032494
Detailed item info
A tense, somewhat prescient drama in which Frank Sinatra plays a psychopathic triggerman hired to kill the United States President. On the way he and his two partners take over a widow's house, which is perfectly situated for an ambush. After Kennedy's assassination, the film was shelved and Sinatra tried to have the prints destroyed.
why don't you discover
ivanhoe
.
ecrater
.com. the ebay alternative for great deals