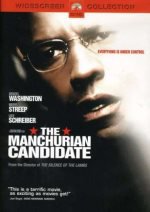 Genre:
Drama
Format:
DVD
Leading Role:
Denzel Washington, Meryl Streep, Liev Schreiber
Release Date:
12/21/2004
Director:
Jonathan Demme
Rating:
R
UPC:
097363368946
Detailed item info
Jonathan Demme updates the original 1962 John Frankenheimer classic with plenty of new paranoid twists: This time a sinister Halliburton-style corporation is behind the brainwashing of a Gulf War hero turned vice presidential nominee, Raymond Shaw (Liev Schreiber). Shaw's old unit commander Ben Marco (Denzel Washington) recommended him for the National Medal of Honor, though he can't remember exactly why, and his recurring nightmares drive him to uncover a massive conspiracy. Sinister forces at work include shifty-eyed bodyguards, a love interest with questionable motives (Kimberly Elise), and Raymond's domineering senator mother (Meryl Streep). Demme infuses the proceedings with enough paranoia and uncomfortable close-ups to rival his 1991 Oscar-winner, SILENCE OF THE LAMBS. Layered sound, overlapping dialogue, and creepy cinematography by Tak Fujimoto (who also worked on LAMBS) further heighten the uneasiness. Demme regulars Roger Corman, Charles Napier, Paul Lazar, and Tracey Walter show up in bit parts as usual. Comedian Al Franken is a welcome face as a TV correspondent, and quirky indie rocker Robyn Hitchcock plays one of the brainwashing specialists. Needless to say, Denzel is superb. Streep is terrifying and hilarious as the maniacal Mrs. Shaw. As with the original (which focused on communist instead of terrorist fear-mongering), the events depicted here are doubly unsettling considering their uncanny resemblance to real-life politics at the time of this film's theatrical release.
why don't you discover
ivanhoe
.
ecrater
.com. the ebay alternative for great deals . Shop Ecrater. Lowest Prices