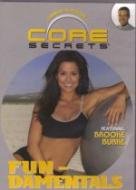 In this DVD, Brooke and Gunnar demonstrate 10 of the best exercises to work your entire body. This is a great DVD for those starting with Gunnar's workout series. It requires the use of a stability ball and of dumbbells.
Condition:
NEW
Brand:
Gunnar Peterson
Title:
Gunnar Peterson's Core Secrets: Fun-Damentals
Genre:
EXERCISE
why don't you discover
ivanhoe
.
ecrater
.com. the ebay alternative for great deals . Shop Ecrater. Lowest Prices